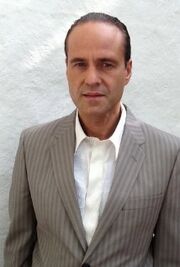 Arie Verveen
is an actor, producer and director. He portrayed
Murphy
.
Biography
Arie Verveen's first lead role in a feature film, was Caught (1996), opposite Edward James Olmos and Maria Conchita Alonso and directed by acclaimed indie director Robert M. Young, for which he received an Independent Spirit Award Nomination, a Golden Satellite Award, and notable critical acclaim, for his performance. Arie first experimented with the idea of acting while living in London Town. He was intrigued by the illusions created in such Tennessee Williams plays, as 'Orpheus Descending', 'Camino Real' and 'Talk To Me Like The Rain And Let Me Listen'... Verveen's London stage debut was a production of 'A Hatful Of Rain' by Michael V. Gazzo which he co-produced and starred in. Shortly thereafter he visited New York City with film in mind. After contributing time at the famed Actors Studio on a volunteer basis he was asked to take over the day to day running of the Studio. He committed to this position for a six month period assisting Arthur Penn. During this period he also contributed to several student and independent films. Fulfillment of his Actors Studio commitment coincided with him being cast in Caught (1996).
Arie Verveen is being directed by Lou Diamond Phillips in (Tao Of Surfing), which wraps in October. He recently worked (Sons Of Anarchy) and the action feature, (Fire With Fire). Verveen's accomplished list of movies and directors he has collaborated with include Terrence Malick (The Thin Red Line), Robert Rodriguez - Frank Miller (Sin City), Guy Ritchie (Suspect), Eli Roth (Cabin Fever), Sergei Bodrov (Running Free) and Robert M. Young (Caught). He has received an Independent Spirit Award Nomination, a Golden Satellite Award and notable critical acclaim, for his work.
Trivia
His sister Viviana Verveen is also an actress based out of Ireland.
Sources
Ad blocker interference detected!
Wikia is a free-to-use site that makes money from advertising. We have a modified experience for viewers using ad blockers

Wikia is not accessible if you've made further modifications. Remove the custom ad blocker rule(s) and the page will load as expected.