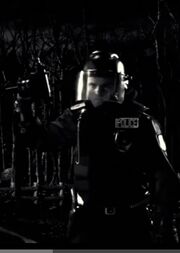 The Basin City Police are more or less along the lines of a paramilitary or SWAT organization, as they have to deal with the incredibly high crime rates from actions by both the criminals and the civilians of Basin City. Because of the danger, they have access to what most would consider "heavy weaponry" as well as full body armor.
Those who make up the force have been described as commonly being lazy, cowardly and/or corrupt. Only a handful of the cops are honest, though frequently the wealthy of the city bribe the corrupt members of the police into performing their duty (usually as a result of some crime being committed against a member of their family).
Members
Ad blocker interference detected!
Wikia is a free-to-use site that makes money from advertising. We have a modified experience for viewers using ad blockers

Wikia is not accessible if you've made further modifications. Remove the custom ad blocker rule(s) and the page will load as expected.