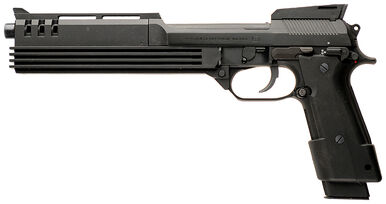 The
Beretta 92FS (mocked up as Beretta 93R "Auto 9")
is a weapon seen in the film.
Sin City
Douglas Klump (Rick Gomez) is the first character seen with the Beretta "Auto 9", aka the RoboCop gun. Hartigan (Bruce Willis) later takes Klump's Auto 9 and kills a cop with it at the Roark's Farm. The Auto-9 seen in RoboCop was an actual Beretta 93R, but in the Sin City version of the gun, close inspection of the slide reveals a decocking safety of a Beretta 92FS, while a genuine 93R has a frame mounted safety, meaning this gun is a 92FS mocked up as an Auto 9. It was mentioned in a behind-the-scenes featurette that this particular weapon was used due to writer Frank Miller's involvement in the story for RoboCop 2 and RoboCop 3.
Klump (Rick Gomez) points his Beretta Auto 9 at Hartigan.
Hartigan fires the Auto 9 akimbo along with a Ruger Blackhawk.
Gallery
Ad blocker interference detected!
Wikia is a free-to-use site that makes money from advertising. We have a modified experience for viewers using ad blockers

Wikia is not accessible if you've made further modifications. Remove the custom ad blocker rule(s) and the page will load as expected.