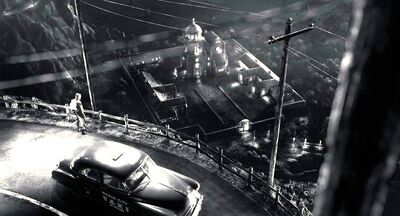 Chevrolet Styleline De Luxe
is a vehicle seen in
Sin City
.
Overview
The Chevrolet Deluxe was introduced late in the 1941 model year as a 4-door sedan. In 1942 a fastback 2-door "aerosedan" became an option. Production was indefinitely delayed in 1942 due to WWII, after 110,000 had been made total, though several thousand Chevrolet coupes and sedans were produced during the war years for military staff use. In late 1945, civilian production resumed. The original series was produced through 1948. A redesigned Deluxe with reduced body contour and integrated rear fenders was offered for the 1949 and 1950 years.
1949–1952
In 1949, all the Chevrolets got the first new styling after the war.The Deluxe was the brand new upper-end model for Chevy. The cheapest Deluxe was the Deluxe Styleline 6-passenger sedan, costing $1,492. Brakes were 11" drums.It has full instrumentation. The front suspension had stabilizers.
In 1950, not much had changed. The front leg room was 42.8 inches.
For 1951, there were few styling changes to the outside, though the dash was completely new.The radio was optional at $64.The rear axle had a ratio of 4.11:1.
In The Film
Marv uses it head to Patrick Henry Roark's place.
Ad blocker interference detected!
Wikia is a free-to-use site that makes money from advertising. We have a modified experience for viewers using ad blockers

Wikia is not accessible if you've made further modifications. Remove the custom ad blocker rule(s) and the page will load as expected.