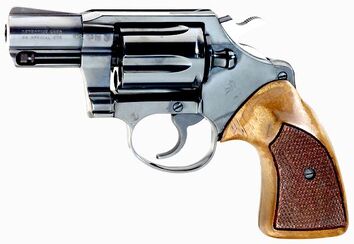 Colt Detective Special
is a weapon seen in the
film
.
Sin City
In the beginning of the film, Detective Hartigan (Bruce Willis) packs a Colt Detective Special in an ankle holster as his "Spare Rod". He attempts to use it when he is shot several times by his partner, Bob (Michael Madsen), but is only shot again when he attempts to pull it out.
John Hartigan
Hartigan reaches for his "Spare Rod" in his ankle holster.
Gallery
Ad blocker interference detected!
Wikia is a free-to-use site that makes money from advertising. We have a modified experience for viewers using ad blockers

Wikia is not accessible if you've made further modifications. Remove the custom ad blocker rule(s) and the page will load as expected.