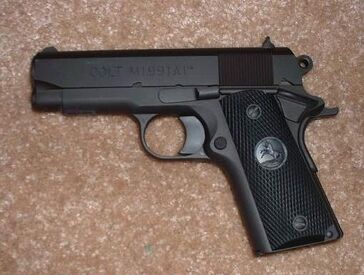 Colt Officer's ACP M1991A1 Series 80
is a weapon seen in the
film
.
Sin City
In the beginning of the movie, Roark Jr. (Nick Stahl) carries a Colt Officer's ACP 1911 variant with a blued frame and stainless steel slide, which he uses to shoot Detective Hartigan (Bruce Willis) several times non-fatally and hold Nancy Callahan (Makenzie Vega) hostage. Roark Jr. loses the gun when he is literally disarmed by Hartigan on the dock.
Gallery
Ad blocker interference detected!
Wikia is a free-to-use site that makes money from advertising. We have a modified experience for viewers using ad blockers

Wikia is not accessible if you've made further modifications. Remove the custom ad blocker rule(s) and the page will load as expected.