Eileen
is a character seen in
That Yellow Bastard
.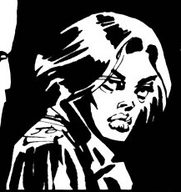 Eileen was
John Hartigan
's wife who is first mentioned at the beginning of the story and later visits Hartigan when he is in hospital. She asks Hartigan if what the the public is saying are true. Eileen later remarries and has children.
In a deleted scene not in the theatrical version Eileen is portrayed by Babs George.
Ad blocker interference detected!
Wikia is a free-to-use site that makes money from advertising. We have a modified experience for viewers using ad blockers

Wikia is not accessible if you've made further modifications. Remove the custom ad blocker rule(s) and the page will load as expected.