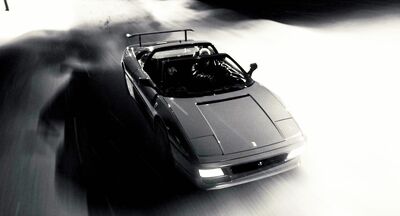 Ferrari 348 is a vehicle seen in Sin City.
348 GTB, GTS, Spider
In late 1993 the 348 was revised, featuring subtle styling changes (front grille, rear chrome Cavallino and removable seat cushions) and more power, this time producing 312 bhp (U.S) and 320 hp (Euro) from the same 3.4-litre engine, with an improved engine management system - Bosch Motronic 2.7, new exhaust system (single muffler).
The revised cars are called 348 GTB (252 made) and GTS (137 made) and were presented to the public as the 348 GT versions, equipped with the F119H engine (as opposed to the original F119D and US F119G). The F119H engine got a bump in compression ratio up to 10.8:1 vs the F119D & F119G 10.4:1 compression ratio, taller intake plenums, fuel pressure was raised from 3.4 bar to 3.8 bar, and different camshaft timing.
For these models, both the engine hood panel and lower body skirts were body-colored instead of black, and the rear track was one inch wider due to the mounting area, on the inside, of the rear wheels being thicker. The suspension geometry was revised which greatly enhanced its handling, ride and body control. The fuel tank was also smaller (88L) in order to reduce overall weight and provide space to improve chassis rigidity.
The 348 Spider (convertible) model was also introduced, in-line with the phasing out of the Mondial Cabriolet. 1,090 units were made of this style.
In The Film
This vehicle was driven by Shlubb.
Ad blocker interference detected!
Wikia is a free-to-use site that makes money from advertising. We have a modified experience for viewers using ad blockers

Wikia is not accessible if you've made further modifications. Remove the custom ad blocker rule(s) and the page will load as expected.