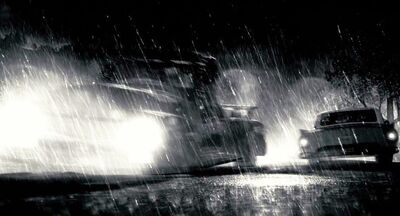 Ford F-Series is a vehicle seen in Sin City.
Overview
The F-Series is a series of full-size pickup trucks from Ford Motor Company which has been sold continuously for over six decades. The most popular variant of the F-Series is the F-150. It has been the best-selling vehicle in the United States for the past 32 years, and the best-selling pick-up for 43 years, and the best selling vehicle in Canada, though this does not include combined sales of GM pick-up trucks.[1]In the tenth generation of the F-series, the F-250 and F-350 changed body style in 1998 and joined the Super Duty series.
During the post-World War II era, smaller Canadian villages had access to either a Ford dealer or a Lincoln-Mercury-Meteor dealer, but not both; a Mercury-badged version was sold at Lincoln-Mercury-Meteor dealers there from 1946–68. Other than the grilles, trim, and badging, these pick-ups were identical to their Ford counterparts.
As of 2014, the Ford F-150 is sold in the United States, Canada, Mexico, most Caribbean countries(except Trinidad & Tobago, St. Kitts & Nevis, and Cuba), Suriname, Ecuador, Peru, Chile, the Middle East, Iceland, Dutch territories of Aruba, Curaçao, and St. Marteen, and British territory Cayman Islands. While the SVT Raptor is sold in the United States, Canada, Mexico, the Middle East, Ecuador, Chile and Peru. And both are available in LHD only. Also called the rebadge version of the Ford F-150 is Ford Lobo in Mexico.
Second Generation (1953–56)
The second-generation F-series was introduced in 1953. The F-1 became the F-100 because of the popular culture influence of the North American F-100 Super Sabre, the first supersonic fighter – first flight 1953. Increased dimensions, improved engines, and an improved chassis were features of the second generation. Additionally the pick-ups were given their now familiar names: The F-1 became the F-100, the F-2 and F-3 became the F-250, and the F-4 became the 1-ton F-350.
In The Film
This vehicle is seen as Dwight is driving to the pits.
Ad blocker interference detected!
Wikia is a free-to-use site that makes money from advertising. We have a modified experience for viewers using ad blockers

Wikia is not accessible if you've made further modifications. Remove the custom ad blocker rule(s) and the page will load as expected.