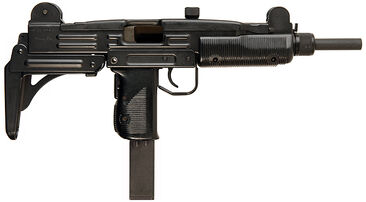 IMI Uzi
is a weapon seen in the films.
Sin City
Gail's (Rosario Dawson) weapon of choice is a full size IMI Uzi. The police guarding Cardinal Roark's (Rutger Hauer) home also carry IMI Uzis.
Police Officer
An officer is seen with the Uzi.
Gail
The IMI Uzi is Gail's weapon of choice.
Mercenary
A mercenary is seen with the Uzi.
Gail
She is seen with the gun.
Gallery
Ad blocker interference detected!
Wikia is a free-to-use site that makes money from advertising. We have a modified experience for viewers using ad blockers

Wikia is not accessible if you've made further modifications. Remove the custom ad blocker rule(s) and the page will load as expected.