Jerry
is a character seen in
Hell And Back
. He was the homosexual lover of
Captain
.
Hell And Back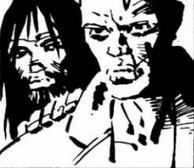 Wallace and Jerry had burned the body of Captain. Wallace was sick and Jerry had helped him. Wallace then took a bath and went off to the compound. Wallace and Jerry take
Esther
to the hospital after Esther was found. The nurse tells Wallace that Esther will be okay in a few days and that the person who did this to her was a professional. Wallace asks Jerry if he could count on him to rescue all those people in the cages and the babies, Jerry accepts. Then, to their surprise, dozens of wounded people are found and brought into the hospital after a massive police operation. Wallace realizes that this has to do with Liebowitz. After a few days, he takes Esther and moves out and far away from
Basin City
.
Ad blocker interference detected!
Wikia is a free-to-use site that makes money from advertising. We have a modified experience for viewers using ad blockers

Wikia is not accessible if you've made further modifications. Remove the custom ad blocker rule(s) and the page will load as expected.