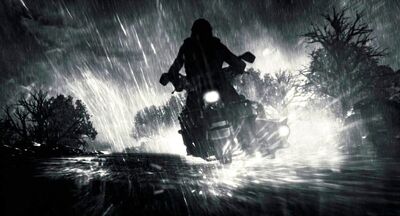 Kawasaki Kz1000 is a vehicle seen in Sin City.
Overview
The Kawasaki Kz1000 or Z1000 is a motorcycle manufactured in Japan by Kawasaki released in September 1976 as a 1977 model to replace the KZ900/Z1 in the Z series. It has an in-line 4-cylinder engine and a 5-speed transmission, in a 'one down and four up' configuration. Producing about 90 hp, it was the fastest production motorcycle of the era.
In 1979 Kawasaki introduced the Z 1300 liquid-cooled, 6 cylinder engine, which became the engine for the Voyager touring series. Both models were available for several years. The police model continued in production until 2005.
The Kz1000 was featured in the television show CHiPs, wherein it was ridden by the protagonist characters Ponch and Jon, two California Highway Patrol officers. The bike was also used in various other TV shows and feature films such as Great Teacher Onizuka (a Japanese anime series) and Chain Reaction (Keanu Reeves' character's bike). The Kz1000 was also featured heavily in the 1979 movie Mad Max, in which a 1977 Kawasaki KZ1000 was ridden by the Main Force Patrol officer Jim Goose, played by Steve Bisley.
Some of the significant differences between the Kz900 and the Kz1000 include that the latter of the two has a heavier crankshaft for less engine vibration, smoother acceleration and a larger displacement. There were various configurations of specifications and assembly, such as having the choice between chain-drive and shaft-drive. The more cruiser-like US version was called 1000 LTD in European
Police Use
As a fast, reliable, and relatively maneuverable bike, the Kz1000P was a favorite among some Police Departments that utilized motorcycles (Kz1000P and Kz900P were used as the police bikes in the popular TV show C.H.i.P.s.). However, it suffered from a number of technical problems, including electromagnetic interference between some radios that caused problems for the ignition system. In addition, the combined set of equipment mounted at the rear (and particularly the placement of the radio on the rear rack) caused high-speed handling difficulties.
Its quick acceleration, quiet exhaust and relatively light weight made sure that a running criminal wouldn't get very far. The officer would be able to use his radio, and if the officer dumped the bike over at any time, chances are, he'd be able to pick it back up without any help. For this and other reasons, caseguards are often seen on these models, protecting the lower engine casing from sustaining any damage or potential oil leakage from falls. The Kz1000 can be outfitted with police gear.
In The Film
This vehicle is driven by the police officers.
Ad blocker interference detected!
Wikia is a free-to-use site that makes money from advertising. We have a modified experience for viewers using ad blockers

Wikia is not accessible if you've made further modifications. Remove the custom ad blocker rule(s) and the page will load as expected.