Home
Talk

1
251pages on
this wiki
More...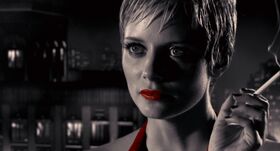 The Customer is a minor character, the focal point of the short story The Customer is Always Right. She is describe as blonde in a red dress. The costumer had hired the Salesman to kill her so she could avoid a more brutal death at the hands of the mafia.

Sin City is a series of neo-noir comics by Frank Miller, an American writer and artist. The first story originally appeared in the Dark Horse Presents Fifth Anniversary Special in April 1991 and continued in Dark Horse Presents #51–62 from May 1991 to June 1992, under the title of Sin City, serialized in thirteen parts. Since then, several other Sin City stories of various lengths have been released. All of them take place in Basin City with frequent recurring characters and intertwining plot lines.
A film adaptation of Sin City, co-directed by Robert Rodriguez and Frank Miller with special guest director Quentin Tarantino, was released on April 1, 2005. A Sin City sequel is set for release on October 4th, 2013. Despite being primarily based on the story A Dame to Kill For, it will have an open storyline so that characters that appeared in the previous film can return.

Who is your favorite female character from the Sin City film?


Sin City related links
Affiliates