Home
Talk

1
157pages on
this wiki
More...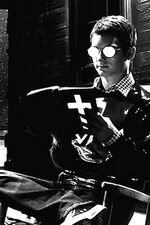 Kevin is a primary antagonist in the film Sin City (played by Elijah Wood) and the Sin City stories The Hard Goodbye and That Yellow Bastard. He is a mute cannibalistic serial killer under the wing of Cardinal Patrick Henry Roark.
Kevin came to Roark for religious counsel, having already given into his cannibalism and being wracked with guilt. Though appearing to be mute, he spoke to Roark in what he described as the 'voice of an angel'. Roark took him in and used his considerable influence to cover up Kevin's killing, having him live on the Roark family Farm and allowing him to kill prostitutes from Old Town.

Read More...

Sin City is a series of neo-noir comics by Frank Miller, an American writer and artist. The first story originally appeared in the Dark Horse Presents Fifth Anniversary Special in April 1991 and continued in Dark Horse Presents #51–62 from May 1991 to June 1992, under the title of Sin City, serialized in thirteen parts. Since then, several other Sin City stories of various lengths have been released. All of them take place in Basin City with frequent recurring characters and intertwining plot lines.
A film adaptation of Sin City, co-directed by Robert Rodriguez and Frank Miller with special guest director Quentin Tarantino, was released on April 1, 2005. A Sin City sequel is set for release on October 4th, 2013. Despite being primarily based on the story A Dame to Kill For, it will have an open storyline so that characters that appeared in the previous film can return.

Who is your favorite female character from the Sin City film?


October 2012: Due to Devon Aoki's second pregnancy, she decided not to return to reprise her role as Miho. Instead, Jamie Chung was casted.
December 2012: Dennis Haysbert was cast to replace Michael Clarke Duncan (who passed away in 2012) as the character Manute.
January 2013:' It was announced that Bruce Willis would be returning for his role as John Hartigan and Joseph Gordon-Levitt has been casted as a new character, Johnny. It was also announced in January that Jeremy Piven, Juno Temple, and Ray Liotta would be joining the cast, and that Josh Brolin would be playing pre-facial surgery Dwight McCarthy.