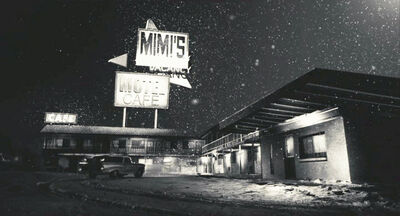 Mimi's
is a location in
Basin City
.
That Yellow Bastard
After wounding the assassin, Hartigan stopped at Mimi's motel where Nancy confessed her love to him. Feeling uncomfortable with the sudden, very sexual affections of the little girl he saved years ago Hartigan tried to dissuade her, Junior then finds and kidnaps both of them, revealing himself to be the stranger from earlier and explaining his changed appearance. He leaves Hartigan at the end of a noose to die. It is here that we are shown another example of Hartigan's superhuman strength, as he wills himself from death and departs after Junior and Nancy. Fat Man and Little Boy come to take his body, but he hits them from behind, and they tell him that Junior went to the Farm.
Ad blocker interference detected!
Wikia is a free-to-use site that makes money from advertising. We have a modified experience for viewers using ad blockers

Wikia is not accessible if you've made further modifications. Remove the custom ad blocker rule(s) and the page will load as expected.