Murphy
was one of the
Irish mercenaries
hired by the Mob to hunt down Dwight McCarthy and bring evidence for the death of Jack Rafferty.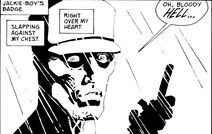 When
Dwight
came to
The Pits
to dispose of
Jackie Boy's
body, Murphy shoot's him. After this the mercenaries argue about how good America is. However the bullet that was fired was blocked by
Jack Rafferty
's badge and Dwight shoot's Murphy in return.
Portrayed by Arie Verveen.
Ad blocker interference detected!
Wikia is a free-to-use site that makes money from advertising. We have a modified experience for viewers using ad blockers

Wikia is not accessible if you've made further modifications. Remove the custom ad blocker rule(s) and the page will load as expected.