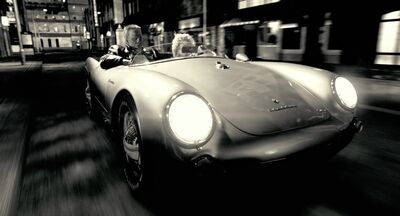 Porsche 550 Spyder Replic
a is a vehicle seen in
Sin City
.
Overview
The Porsche 550 was a sports car produced by Porsche from 1953-1956.
Replicas
The 550 is among the most frequently reproduced classic automobiles.
Several companies have sprung up in the last 25 years who offer kit and turn-key cars, including;
Boulder Speedster
HJRkitscars from Argentina
Chuck Beck Motorsports
Chamonix do Brasil
Auto Classics
Holmes Motor Company
Le Mans 550 Spyder
Vintage Spyders.
There are a few companies that build near-exact replicas from the ground up fabricating 550 turnkey cars to the buyers exact specifications;
Alloycars, which specializes in exact aluminum recreations from blueprints.
In The Film
This vehicle is driven by Wendy.
Ad blocker interference detected!
Wikia is a free-to-use site that makes money from advertising. We have a modified experience for viewers using ad blockers

Wikia is not accessible if you've made further modifications. Remove the custom ad blocker rule(s) and the page will load as expected.