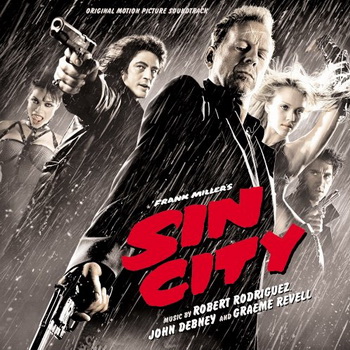 Sin City: Original Motion Picture Soundtrack
is the soundtrack to the
2005 film Sin City
. It features music composed by Robert Rodriguez, John Debney and Graeme Revell, performed by the Hollywood Studio Symphony, as well as the orchestral track "Sensemayá" from Mexican composer Silvestre Revueltas and the electronica piece "Absurd" by Fluke.
Composers' Approach
Because the film is based on different comic book stories (written by Frank Miller), each composer was assigned to score a different story. Revell scored the music to The Hard Goodbye (Rodriguez co-scored for tracks four, six and eight); Debney scored The Big Fat Kill (Rodriguez co-scored tracks eleven and twelve); Rodriguez scored That Yellow Bastard as well as the opening credits sequence and the first track in the end credits.
Miscellaneous music
The song featured in the trailers and television spots was an instrumental version of the song "Cells" by The Servant and briefly appeared in the movie as a sample.
Track Listing
Ad blocker interference detected!
Wikia is a free-to-use site that makes money from advertising. We have a modified experience for viewers using ad blockers

Wikia is not accessible if you've made further modifications. Remove the custom ad blocker rule(s) and the page will load as expected.