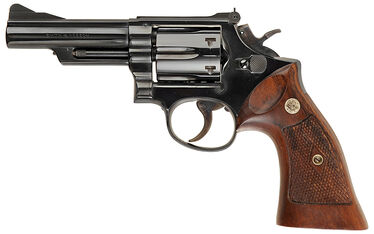 Smith & Wesson Model 19
is a weapon seen in
Sin City
.
Sin City
Manute's henchman Stuka (Nicky Katt) packs a Smith & Wesson Model 19 with rubber grips. Manute (Michael Clarke Duncan) himself appears to use the same revolver in the alley before being shot several times. He then flees from the alley and is stopped by Miho (Devon Aoki), where he is seen using two Model 19s before she cuts him in half with a large blade spear type weapon.
Stuka had kept the gun in his pants, he then takes it out to kill Becky wit it.
Manute is seen with the gun while in the alley.
Gallery
Ad blocker interference detected!
Wikia is a free-to-use site that makes money from advertising. We have a modified experience for viewers using ad blockers

Wikia is not accessible if you've made further modifications. Remove the custom ad blocker rule(s) and the page will load as expected.