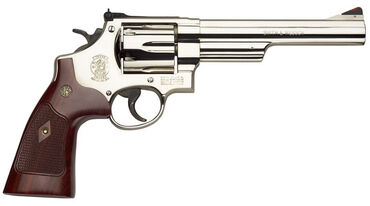 Smith & Wesson Model 29
is a weapon seen in the films.
Sin City
In the beginning of the film, Detective Hartigan (Bruce Willis) uses a Smith & Wesson Model 29 .44 Magnum to rescue the young Nancy Callahan (Makenzie Vega), and also uses it to blow Roark Jr. (Nick Stahl) apart. Frank Miller made Hartigan use a .44 Magnum as an ode to Dirty Harry and felt the 5th film was a bad way to end the series, so he made this as his Dirty Harry. Note how Nancy's last name is "Callahan." Despite being a lefty in real life, Bruce Willis was nice enough to fake being a righty shooter for the film to stay faithful to the comics.
He is seen with the weapon.
Sin City: A Dame To Kill For
Nancy is seen with the gun in the second film.
Gallery
Ad blocker interference detected!
Wikia is a free-to-use site that makes money from advertising. We have a modified experience for viewers using ad blockers

Wikia is not accessible if you've made further modifications. Remove the custom ad blocker rule(s) and the page will load as expected.