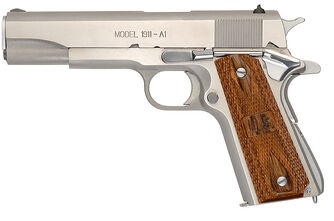 Springfield Armory M1911A1
is a weapon seen in the films.
Sin City
The Springfield Armory M1911A1 is one of the most frequently used handguns in the film (Which are clearly seen on the slides of the guns). At the beginning of the film, The Salesman (Josh Hartnett) uses a G.I. model fitted with a sound-suppressor to kill a woman. Marv (Mickey Rourke) also packs a G.I. model, which he affectionately named "Gladys", after a nun in his Catholic school. Apparently he took the gun from a guy he killed at school based on the line "I stole her off the toughest guy I ever messed with, back in school. He was dead at the time, so he didn't miss her." -(graphic novel Sin City: The Hard Goodbye"). Det. Jack "Jackie Boy" Rafferty (Benicio del Toro) packs a single G.I. model with Pearl grips and Dwight McCarthy (Clive Owen) carries two matching G.I.'s with ivory grips. Along with all of them, several random extras such as thugs and Old Town prostitutes are seen with M1911A1s as well.
He uses a suppressed M1911A1 to kill the Customer.
Marv (Mickey Rourke) retrieves his Springfield Armory G.I. Model M1911A1, nicknamed "Gladys", from under his bed in his mom's house. (extended cut).
Lucille with Gladys before being gunned down.
Det. Jack "Jackie Boy" Rafferty (Benicio del Toro) packs a single M1911A1.
An Old Town Girl
She is seen with the M1911A1.
Dwight is seen with the M1911A1. His version appears to be modified.
Sin City: A Dame To Kill For
Joey
The suppressed Springfield Armory M1911A1 is seen in the hands of Joey.
Gallery
Ad blocker interference detected!
Wikia is a free-to-use site that makes money from advertising. We have a modified experience for viewers using ad blockers

Wikia is not accessible if you've made further modifications. Remove the custom ad blocker rule(s) and the page will load as expected.