Tommy
was a messenger in the hit on Marv. He paid
Telly Stern
to hire 
Stan
and his comrade to kill
Marv
while he was looking for
Goldie
's murderer.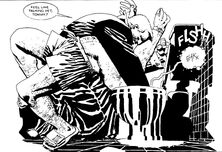 When Marv made Telly talk, he gave Tommy's name. Then Marv found him in order to find out who wanted him (and Goldie) dead. He shoved Tommy's head in the toilet until he talked. Before Marv killed him Tommy gave him the guy who hired him,
Connelly
.
Ad blocker interference detected!
Wikia is a free-to-use site that makes money from advertising. We have a modified experience for viewers using ad blockers

Wikia is not accessible if you've made further modifications. Remove the custom ad blocker rule(s) and the page will load as expected.