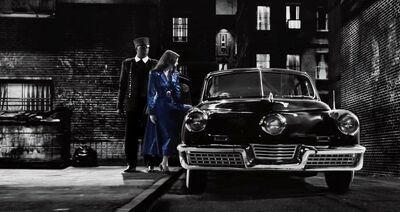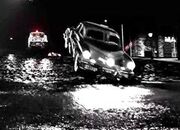 Tucker 48 is a vehicle seen in the film.
Overview
The Tucker 48 (named after its model year) was an advanced automobile conceived by Preston Tucker and briefly produced in Chicago in 1948. Only 51 cars were made before the company folded on March 3, 1949, due to negative publicity initiated by the news media, a Securities and Exchange Commission investigation and a heavily publicized stock fraud trial (in which allegations were proven baseless in court with a full acquittal). Speculation exists that the Big Three automakers and Michigan senator Homer S. Ferguson also had a role in the Tucker Corporation's demise. The 1988 movie, Tucker: The Man and His Dream is based on Tucker's spirit and the saga surrounding the car's production. The film's director, Francis Ford Coppola, is himself a Tucker owner and displays his vehicle on the grounds of his winery. Coppola's friend and protégé, filmmaker George Lucas, is another notable owner. The Tucker 48's original proposed price was said to be $2,450, but the actual price was closer to $4,000. A 1948 Tucker sedan was featured in the July 26, 2011 installment of NBC's It's Worth What? television show. The car's estimated value at that time was US$1,200,000. It is a common error to call the "Tucker 48" the "Tucker Torpedo". This name was never used in conjunction with the actual production car, and its name was officially "Tucker 48".
In The Film
Ad blocker interference detected!
Wikia is a free-to-use site that makes money from advertising. We have a modified experience for viewers using ad blockers

Wikia is not accessible if you've made further modifications. Remove the custom ad blocker rule(s) and the page will load as expected.